The Ferguson Rifle is one of my favorite books by Louis L'Amour. The Ferguson Rifle was a breech loading rifle, which was extraordinary technology for 1780. The main character is named Ronan Chantry. When Ronan was a boy living in South Carolina in 1780, Captain Patrick Ferguson gave him this rifle before leaving for what would be known as the Battle of Kings Mountain.
Amazon.com describes the plot,
"It began with gold that had once belonged to Montezuma. Stolen and cached in a church in Mexico, it was recovered by two army officers who fled north for the French settlements. Along the way one stabbed the other to death. The remaining officer was eventually killed by Plains Indians, but he buried the treasure just before he died.
Now Ronan Chantry, a handful of trappers, and an Irish girl whose father was killed after telling her a few vague landmarks are searching for the lost treasure. But they are not alone. The girl's uncle, Rafen Falvey, wants it, too. Like Chantry, he is well educated, bold, and determined. Under different circumstances the two men might have been friends. But in all likelihood it wouldn't have made any difference. When it comes to gold, even friendship doesn't keep men from killing each other."
I was excited to find an article on the War History Online website named Revolutionary War Tech: The Ferguson Rifle. It meant that Louis L'Amour had done his research and the rifle was based on real technology of the time. The article included a diagram that showed how the breech loading mechanism worked.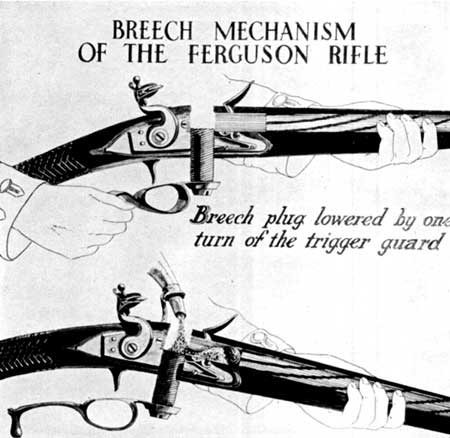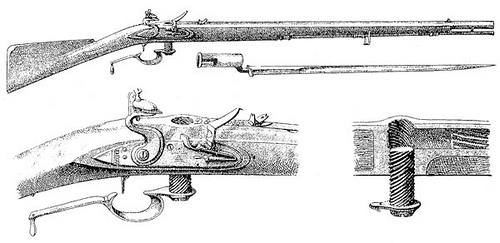 The article goes on to explain,
As the story goes, Ferguson managed to produce several prototype rifles that he placed in the hands of ten trained marksmen who, along with Ferguson, demonstrated their use in front of the British War Office and Board of Ordnance. Despite being forced to perform in driving rain and gusty winds, Ferguson's cadre of sharpshooters won the immediate admiration of the Board.

Among other accomplishments, the test demonstrated that the rifle could "put 15 balls on a target at 200 yards in 5 minutes," and, "after pouring a bottle of water into the barrel… fired as well as ever." Ferguson's design was a vast improvement over the Brown Bess, which was only reliably accurate up to about 50 yards.

Revolutionary War Tech: The Ferguson Rifle
The article goes on to say,
Claims that the Ferguson Rifle later saw action during the Southern Campaign of the war are unsubstantiated, although Ferguson himself was killed in action at the Battle of Kings Mountain (South Carolina) on October 7, 1780. Contrary to some popular reports, Ferguson was not armed with his breech-loading rifle at his final battle.

Revolutionary War Tech: The Ferguson Rifle
Mr. L'Amour was very clever to use this historical fact to explain how Ronan Chantry ended up with this marvelous piece of Revolutionary War technology.